What it is... and what not
|
for magic effect creators
|
Large Index Decks
|
Double-Deckers
|
Parlour Decks
|
Card Quality Comparison
Parlour Decks
Unfortunately due the fire that destroyed our warehouse in 2017, the entire inventory of Phoenix Parlour Decks was destroyed along with everything else. It is our plan to have the entire line of Parlour Cards reprinted in the second quarter of 2018. For those of you who use the Phoenix Parlour Cards, we humbly appreciate your patience and understanding. We will have them soon!
The World's Smallest Jumbo Deck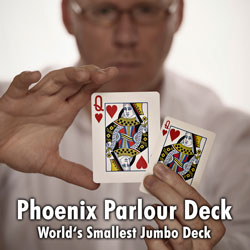 Sounds silly, but it isn't. These cards are the perfect size for pro performers. Every magician who has handled these cards was surprised how easily he could apply all his learned sleights including palming. With just a few minutes of practice, you will never use "smaller" Poker cards in a Stand-Up / Parlour situation again.
The Parlour Deck is the logical solution for all magicians who perform for audiences of 10 or more people (so nearly every magician). Imagine handing out a magnifying glass to every spectator. The cards are extremely visible due to the new face design, without looking odd or different to your audience! The center image stays the same while the whole card size increase (about 0.5 inch in length and width) went into larger indices.
Main features of the Parlour Deck:
High visibility for Close-up, Parlour and Stage performances
Cards still look like Poker sized cards to your audience
All the features of the Phoenix Deck are also built into the Parlour design(ie: one way design on the backs and faces)
All sleights that could be performed with Poker sized cards can be done with the new Parlour size, so you will get used to the new size extremely fast
The cards are produced on our Card-Shark stock that matches the US playing card stock used for Bicycle Decks, our newly invented Smooth Glide Finish will guarantee beautiful looking fans and flourishes
Perfect as a training deck. If you train your sleights with the Parlour Deck, performing them with Poker sized cards is a breeze. It is as if you would perform Poker Deck sleights with a Bridge size deck.
Many specialty decks and effects already exist in this Parlour size, including Double Deckers, Ultimate Brainwave, Get Sharky, Invisible Decks etc.
Look at the comparison chart to find out the advantages for yourself.
Give the Phoenix Parlour Deck a try, you will be amazed how easy they are to handle. Go to the Phoenix Parlour Online Shop.